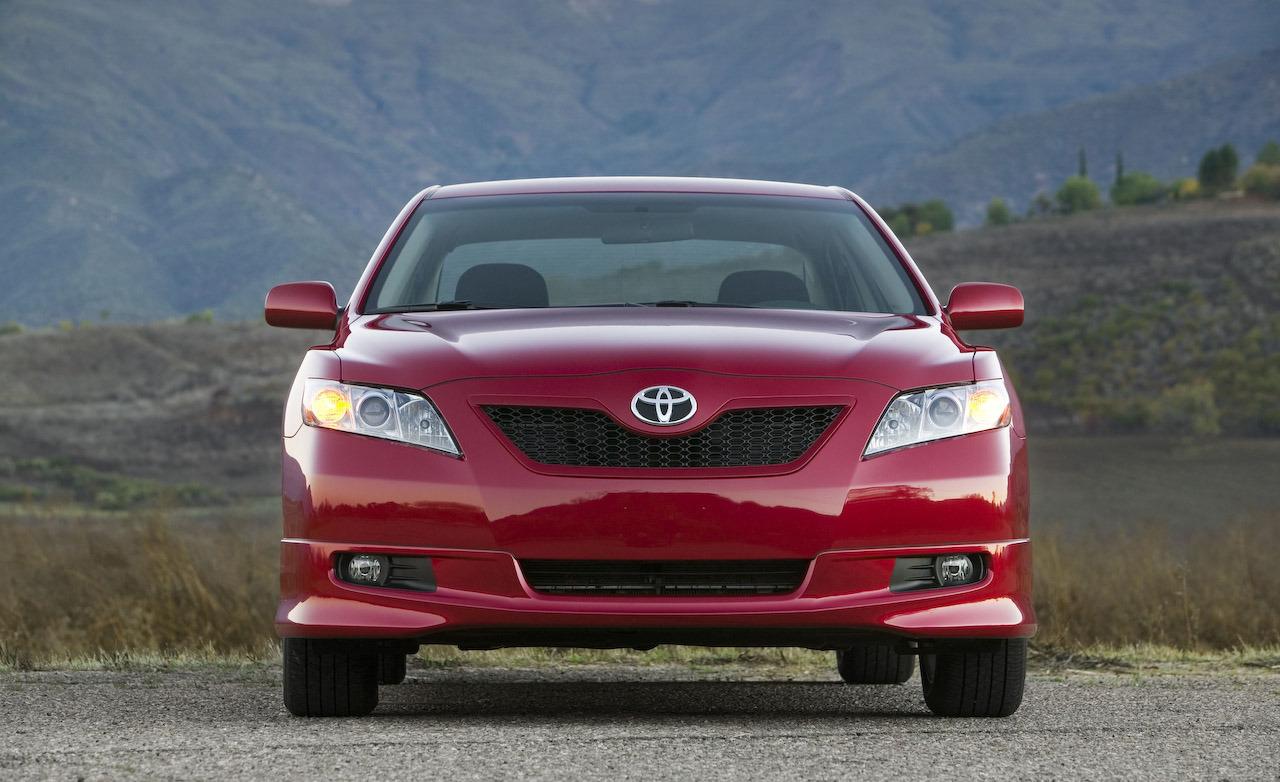 Every year, the Toyota Camry is updated to reflect the best in technology, safety, and drivability, while maintaing the greatest quality and value of any 4-door sedan on the road.
2008 Camry
The 2008 Toyota Camry is equipped with either a 2.4L 4-cylinder or powerful V6 engine, with available 5-speed manual or automatic transmission. The 2008 Camry ranges from the simple CE trim to the luxury-appointed XLE trim. Air conditioning, cruise control, full power accessories, ABS brakes, and AM/FM/CD/Satellite audio provide comfort and convenience.
2009 Camry
The 2009 Camry maintains its predecessor's excellent powertrain options and convenience features. Instead of being an upgrade option, remote keyless entry is standard on all non-Hybrid 2009 models.
2010 Camry
Updated exterior styling, enhanced interior features, and a new powertrain define the 2010 Toyota Camry. Variable Valve Timing with Intelligence, a new 2.5L 4-cylinder engine, and new 6-speed manual and automatic transmissions increase horsepower and efficiency. Vehicle Stability Control and auto up/down window control is standard on all four door 2010 Camrys.
2011 Camry
The 2011 Camry offers three different engines: a 169 horsepower 4-cylinder, a 179 horsepower 4-cylinder, and a 268 horsepower V6. Available features include an 8-speaker sound system, voice-activated touchscreen navigation, heated front seats, and Push Button start.
2012 Camry
The totally redesigned 2012 Toyota Camry is more spacious and aerodynamic than ever. A larger trunk and 60/40 split folding rear seats offer greater cargo capacity. Only available with a 6-speed automatic transmission, the 4-cylinder 2012 Camry achieves a combined average of 29 mpg.
2013 Camry
Technological upgrades in the 2013 Camry include a standard touchscreen audio system display and Bluetooth hands-free capabilities. An available Blind Spot Monitoring system adds to the standard safety features, including Traction Control, ABS. and Smart Stop Technology.
2014 Camry
The 2014 Camry introduces the SE Sport edition, which adds a sport suspension, sunroof, and 18-inch alloy wheels and tires. A mid-year update, the 2014.5 Camry, if you will, adds a standard backup camera, enhanced audio options, and design changes for better crash resistance.
2015 Camry
The redesigned 2015 Toyota Camry is bolder, sportier, and modernized. A new 4.2-inch Thin-Film-Transistor screen displays vehicle alerts, a revised suspension delivers precision handling, and safety options like Adaptive Cruise Control and Lane Departure Alert are newly available.
Limbaugh Toyota in Birmingham, Alabama, offers a range of new and used Toyota Camrys. Find out which Camry is right for you today.